Book written by Warren Lehrer and Judith Sloan. Photography and design by Warren Lehrer.
Published 2003, W.W. Norton Inc. New York/London.
6.5" x 9.75" x 400 pages. Four colors on acid-free paper. Hardcover (with audio CD), and Paperback.
At the center of this multimedia project sits the 400 page, four color book—which portrays the lives of new immigrants and refugees who live in the most ethnically diverse locality in the United States—the borough of Queens, in the city of New York. For three years, writer and artist Warren Lehrer and actress and oral historian Judith Sloan traveled the world by trekking the streets and neighborhoods of their home borough in search of migration stories, culture and soul. This book documents some of the many people and stories they encountered along the way. First person narratives, culled from interviews and storytelling workshops, are illuminated by Lehrer's photographic portraits of the subjects alongside reproductions of the objects they have carried with them from home to home. The Talmudic structure of the book juxtaposes multiple perspectives: neighbors who came from opposite ends of the earth, intergenerational points of view within families, teammates, classmates, friends, enemies, and co-workers. Narratives are annotated by Lehrer/Sloan's observations, as well as historical perspectives on the countries of origin, changes in U.S. foreign/immigration policies, and other contextual matter. In five movements, the book features the voices of 79 individuals as they reflect on the good, the ugly, and the unexpected in their stories of crossing oceans, borders, wars, economic hardship, and cultural divides. Collectively, the stories, images and sounds of Crossing the BLVD serve as a magnifying glass for the future of America. Other branches of the project include public radio documentaries, an audio CD, a traveling exhibition and performance.
ISBN-10: 0393324664    ISBN-13: 978-0393324662
Paperback, in second edition. Suggested Retail Price: $21.95
BUY NOW W.W. NORTON
Harbound book packaged with audio CD. Out of print.
BUY NOW! Some hardbound copies available at $100 plus shipping.
 
Audio CD BUY physical CD $9.99 plus shipping
BUY on iTunes Full CD $9.99 or individual tracks $0.99
---
sample spreads, page details, audio CD
Some page spreads and details from the 1st movement: New Pilgrims
Some page spreads and details from the 2nd movement: Run for Your Life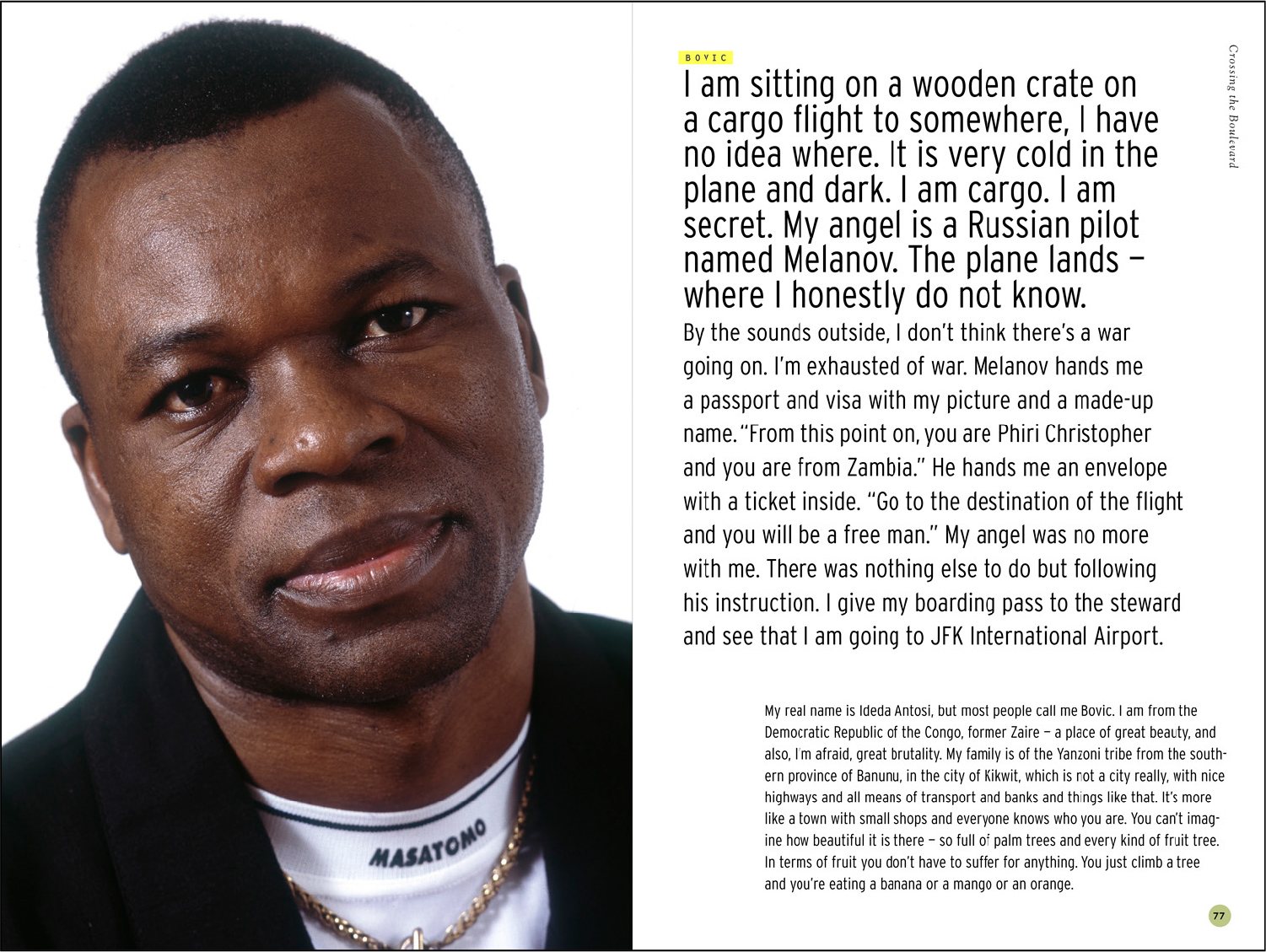 Some page spreads and details from movement 3: Ties That Bind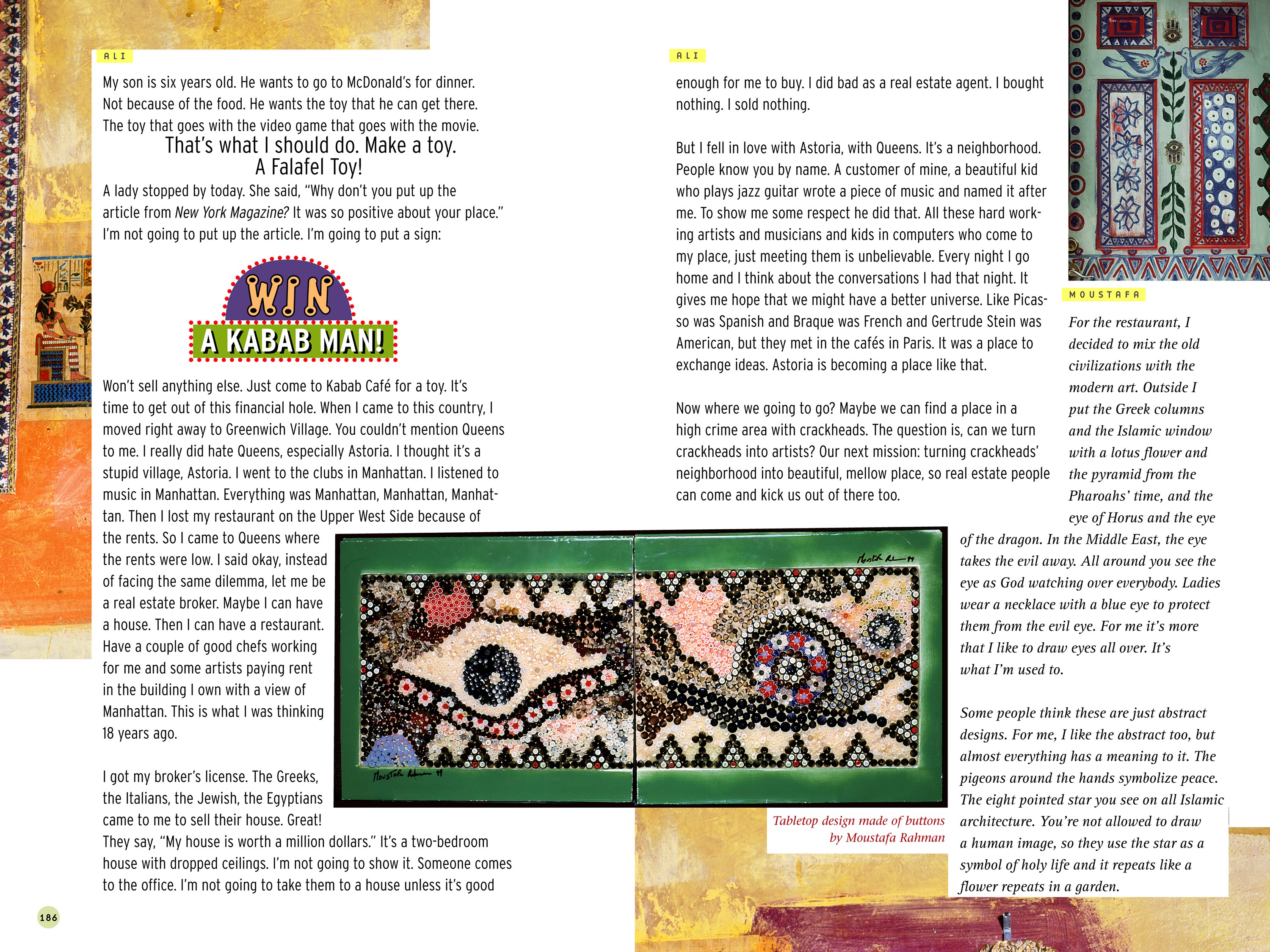 Some page spreads and details from movement 4: Neighborhood Stories
Some page spreads and details from movement 5: Unlikely Bedfellows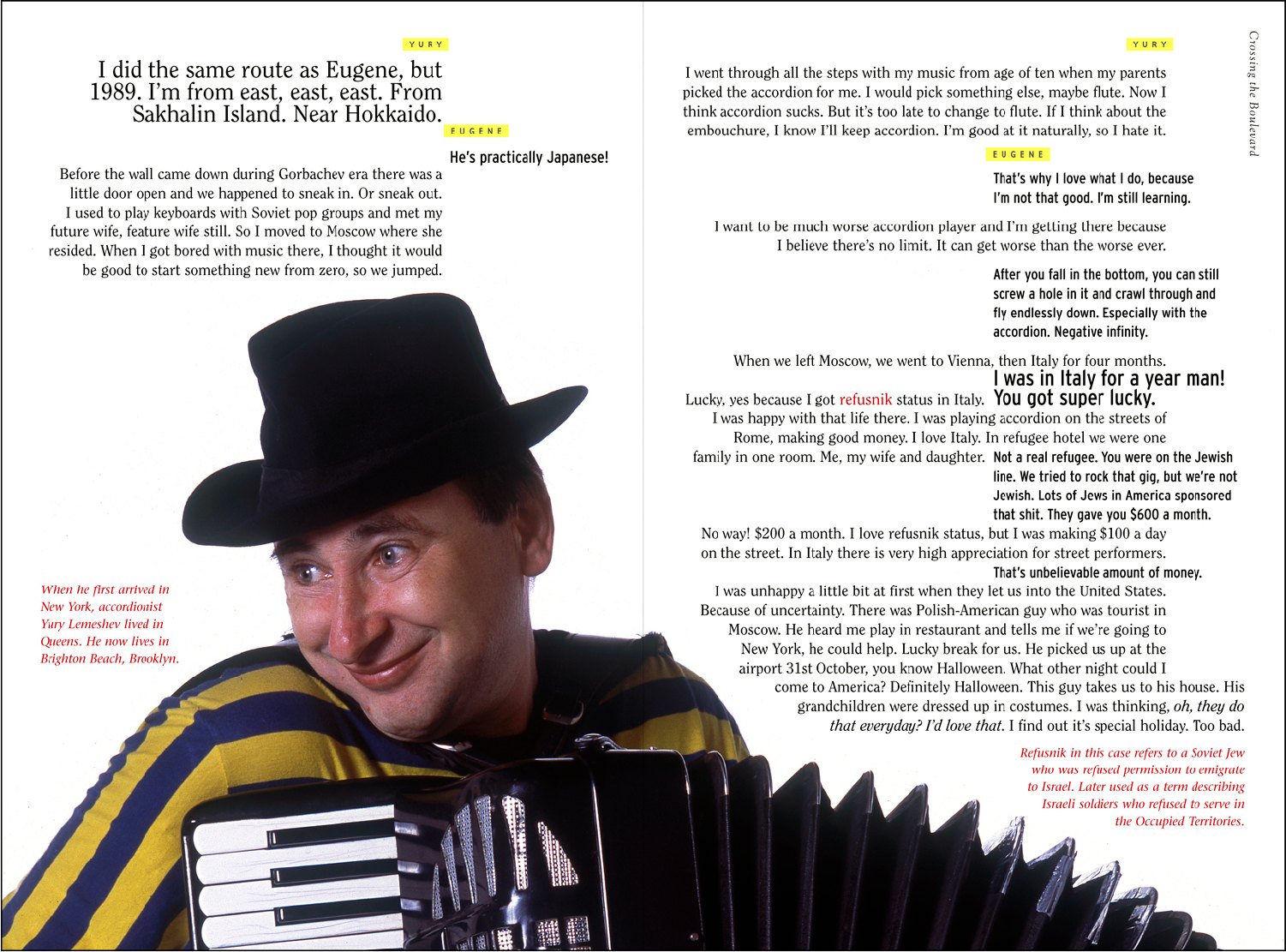 Packaged with the hardcover book or as a stand alone item, The Crossing the BLVD audio CD features original new music compositions by Scott Johnson (of John-Somebody fame) and text-based audio compositions by Judith Sloan and Warren Lehrer that cross the boundaries between music and speech, journalism and expressionism, tradition and the avant-garde. All sampled voices are culled from interviews of new immigrants and refugees by Lehrer/Sloan on their three-year journey through the borough the most ethnically diverse locality in the United States. Produced by Judith Sloan, the CD also includes music by Crossing the BLVD participants including the gypsy-punk-cabaret band Gogol Bordello, Nigerian gospel singer Kingsley Ogunde, and Romanian-American musicians Christine and Dinu Ghezzo. A rich and original musical soundscape, the Crossing the BLVD album reflects the immigrant experience at the crossroads of a paradoxical and ever-changing America. Selections aired on National Public Radio stations nationwide, featured as a "Global Hit" on PRI's The World, and on New and World Music programs.
Crossing The BLVD: strangers, neighbors, aliens in a new America
Audio CD, Music Compositions by Scott Johnson, Audio Compositions by Judith Sloan and Warren Lehrer, Producred by Judith Sloan. EarSay with W.W. Norton, 2003
SAMPLE & BUY physical CD $9.99 plus shipping
SAMPLE & BUY on iTunes Full CD $9.99 or individual tracks $0.99